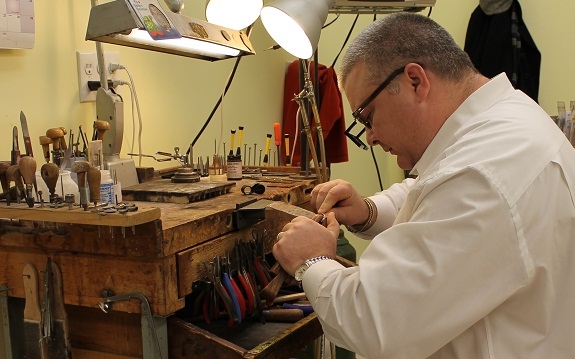 George & Company Diamond Jewelers is a family-owned store that has been serving Northeast Pennsylvania for over ten years. Owners George & Kim Duffy have dedicated their lives to providing the highest quality diamond and gemstone jewelry to their loyal customers.
Each year (often twice per year), George Duffy takes a trip to Antwerp, Belgium, where he searches for the world's most perfect diamonds.He brings them back to his store in Dickson City and works with his customers to create the most unique, exquisite settings for them.
A little additional information about George Duffy the owner.
George Duffy always had a love for the jewelry business. At 11 years old, George started working in his father's jewelry store in Scranton, cleaning showcases and vacuuming the floors. It was at this time that he learned how to engrave. When he was 12, George was polishing rings and learning the birthstone for every month. By the time he turned 18, he was soldering chains, sizing rings, and helping his dad with jewelry repairs for 13 other jewelry stores.
In 1990, George began running a second store for his father and taught himself how to design and create his own jewelry by using carving wax and lost wax casting. Within 10 years, George got married and opened up his own store, Duffy's Goldsmiths, in Olyphant. In 2008, George and his wife Kim purchased their current building on Main Street in DicksonCity and changed the name to George & Company Diamond Jewelers.
George is a member of (IJO) Independent Jewelers Organization and holds the following certifications and trainings:
Certificates from (GIA) Gemological Institute of America in diamonds and diamond grading
Certificate from Stewart International in Florida for diamond setting
Certificate in advanced diamond setting from New Approach academy in Virginia
Laser training
(CAD) Computer - Aided Design training
(CNC) Computer Numerical Control training